GFE offers consulting worldwide

Technical Assistance to institutions, investment and trade promotion, studies, project evaluation, management workshops, delegation of managers, rehabilitation of companies, vocational training, PPP, conferences and exhibitions.

Founded in 1979 by Dr. Ulrich Daldrup, GFE grew in little time to one of the leading consulting companies in Germany and in Europe. One year after its foundation, German Ministry of Economic Co-operation concluded contracts worth four Million DM with GFE for regional development projects in Kenya, Somalia and Haiti. This was the breakthrough of GFE´s successful development. In 1981 the European Commission, the United Nations UNIDO, UNDP and UNHCR counted among the clients of GFE.

25 years after its foundation GFE has world-wide reputation as consultant to governments, ministries and the private sector

Broad range of activities

The reorganization of ministries, privatization of state owned companies, temporarily management, delegation of experts, rehabilitation of companies, organization of conferences, studies and workshops, GFE has a broad range of activities.

Worldwide activities

Today GFE has daughter companies and branch offices in five countries and has carried out contracts in 96 different countries.

GFE´s staff

GFE has a permanent staff of 70 highly specialized and multilingual experts. On top of its permanent collaborators GFE has some 1.900 free lance experts covering almost any professional skill.

Satisfied clients - world-wide

GFE has satisfied clients in more then 90 countries. Among the clients are many private companies and financial institutions, but also governmental bodies, ministries, state owned financial institutions, federations, chambers of industries and international institutions.

Our philosophy is to have satisfied clients, deliver quality work at affordable costs. Thanks to this philosophy, GFE did not need to invest in publicity costs. Our clients express their satisfaction by reordering services from GFE.

Satisfied clients, our references

Major clients of GFE are:

European Commission

European Commission's FED, PHARE, TACIS, ECHO, MEDA, SAPARD, Leonardo da Vinci, Interreg

Kreditanstalt für Wiederaufbau

GTZ Deutsche Gesellschaft für Technische Zusammenarbeit mbH

DEG Deutsche Investitions- und Entwicklungsgesellschaft

EBRD European Bank for Reconstruction and Development

World Bank

UN: UNIDO, UNDP, UNHCR ESCAP

BMZ Bundesministerium für wirtschaftliche Zusammenarbeit

DtA Deutsche Ausgleichsbank
Energy Hills
---
Examples of GFE´s activities:
---
GFE Worldwide: DELEGATION OF EXPERTS IN ALL PARTS OF OUR WORLD
GFE´s experts are experienced to work worldwide, also in the most remote places on our Earth, to join the needs of our clients.

In all continents GFE-Experts manage, plan, evaluate and carry out projects.

Most of GFE's clients are international organisations, governments and regional administrations.

GFE worked in more than 90 countries
---
Assistance to East European Governments on their way to full membership in the European Union
GFE assisted East European Governments of the 10 new EU member states to fulfill certain chapters of the Acquis Communautaire. That Acquis, some 80.000 pages of legal text, represents the entire legislation of the EU, that the new member states have introduced in their national legislation.
GFE has assisted most of the ten new member countries to introduce the EU legislation into their national legislation and to train executives on all levels of administration. The consulting services of GFE included also to set up procedures and management structures for EU structural funds (Interreg, ERDF).
GFE offers international legal advice. That may include the formulation of laws, preparation of budgets, international law or the evaluation and organisation of administrative procedures.
---
Energy Research and Management
GFE is engaged in international research in the field of sustainable energy as: energy efficiency, bio-energy. GFE's main contribution is the project management. dissemination activities, communication, WEB based communication. GFE assures since 2008 the management of the largest energy competence association in the EU: Energy Hills (www.energyhills.eu), with more than 70 members and some 4.000 academic researchers in the energy sector.
---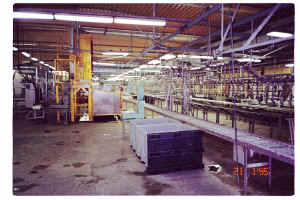 PRIVATIZATION, MANAGEMENT, STUDIES
Some 100 private companies have been made fit by GFE managers for the more competing and global world. GFE Management contracts with private companies in the European Union, Poland, Estonia, Latvia, Lithuania, Russia, Czech Republic, Egypt Tunisia, Pakistan, Thailand, Malaysia, Philippines, Jamaica, Trinidad & Tobago, Venezuela, Mauritius etc had been concluded, to re-organize companies, to introduce new audit systems, to improve production, to cut costs down, to competitive present products in international markets, to enter into joint partnerships, to develop successful marketing und to sell on international fairs and exhibitions.
---
REGIONAL DEVELOPMENT IN DEVELOPING COUNTRIES and in EMERGING ECONOMIES
Regional development projects, as in Haiti, in Kenya, in Tunisia and in Somalia, where GFE has constructed hundreds kilometers of feeder roads to access remote villages, planted up to 100.000 trees per year to stabilize the destroyed environment, constructed hundreds of ha of irrigation schemes, created schools for the children, organized markets and promoted handicrafts.. These large scale projects have been funded directly by German Ministry of Economic Cooperation (BMZ).
---
HUMANITARIAN AID
Food Security Programs and Humanitarian Aid by GFE in Northern Kenya, funded by German BMZ. Other large humanitarian help Programmes, as Food for Work Projects, Regional Development Projects, Refugee Camp Management, Food Shipment and Distribution have been realized in Somalia, Tanzania, Gaza, Haiti, Azerbaijan, Macedonia and Pakistan.
GFE evaluates many Humanitarian Aid projects of EU/ECHO, German government and British DEC in countries as: Afghanistan, Angola, Ethiopia, Kenya, Congo, Malawi, Palestine, Macedonia, Albania, Guatemala, Honduras and Nicaragua
---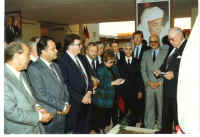 ASSISTANCE TO SMALL SCALE INDUSTRIES (SME), INSTITUTION BUILDING, VOCATIONAL TRAINING
In 25 years GFE has acquired large experience in the development of SME/SMI in many countries and under different market structures. Though in In Fez, Morocco, GFE has realized the first Moroccan Chamber of Handicrafts under a twinning with German Handwerkskammer Rhein/Main. This 8 Million EURO project with a duration of 10 years brought a break through and a new politics in favor of the SME sector in Morocco. This Chamber project realized the first non-governmental Vocational Training Center in Morocco, offering professional up-grade and basic training to some 1.000 handicrafts per year. This Center is allowed to grant "professional certificates". Similar projects have been realized in Poland and Mauritius.
The Construction and management of "Technology Centers" in the neighborhood of Universities is another success story by GFE tp promote the start up of technology oriented small enterprises. Such projects have been realized in Lithuania, Macedonia and Mauritius.
The Vocational Training Center in Fes was inaugurated by Philipp Jenninger, at the time President of the German Parliament.
---
INDUSTRIAL AND ECONOMIC CO-OPERATION
GFE is one of Europe's leading Conference Makers. Since 1979 the European Commission contracts GFE´s services to organize some of its most important business meetings between entrepreneurs of ACP -countries and the European Union: The Forum of Investors, now called Forum EU -ACP. This Forum is held almost every year and brings some 200 to 600 entrepreneurs together to talk about business.
GFE is in charge of the German-Indian Trade Promotion Programme, the EU-funded, Jamaica based Trade Development Programme, the GTZ funded , but also the EU/GTZ co-funded EACH programme. The last Programmes covered to product development and export promotion for SME in some 25 developing countries
---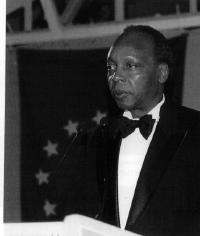 CONFERENCES, TRADE FAIRS, INTERNATIONAL MEETINGS, DISSEMINATION
Since 1979 GFE organizes and manages international conferences, workshops and other meetings. A number of Fair companies have been re-organized and made profitable by GFE: The St. Petersburg Fair (LENEXPO), the Cairo Fair, the Nairobi Fair, GFE won the contract to assure the participation of the East African countries at the EXPO 2000, that took place in Hanover. This "all -in" contract included the complete organization and participation of East African countries at this World Exposition.
From 1995 to 1998 GFE was a sponsor and co-organizer of the famous GLOBAL PANEL CONFERENCES. On the left photo the Prime Minister of Mozambique, H.E. Mucombi addressed a key-note speech during the GLOBAL PANEL Conference 1997 in Aachen. Other key-note speakers at the GLOBAL PANEL have been the Presidents of the United States of America, of Romania, of Hungary, the King and the Crown Prince of Jordan, the Prime Ministers of France, the Netherlands, Malaysia, Russia, Ivory Coast, Lithuania etc. Also heads of companies as from Daimler-Chrysler (1998), Nokia, Unilever, Shell, Philips etc have participated and addressed important speeches on these annual conferences in Aachen.
Since 1999 GFE organizes and promotes an important number of international, national and regional conferences for the European Commission, the German KfW, the Business Club Aachen Maastricht, the MIT and Energy Hills.
---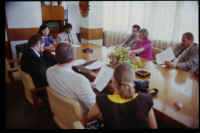 TRADE AND INVESTMENT PROMOTION
GFE organizes missions of entrepreneurs to other countries to discover new market opportunities. Such promotion missions of European entrepreneurs to Mauritius, Morocco, Tunisia, India, Lithuania, Latvia, Poland, Jamaica etc have been organized by GFE.
---
Workshops, evaluations, management training
Some 70 project-evaluations worldwide and another 100 project related workshops have been organized and implemented by GFE senior experts during the last 25 years.
---